PrideNation, home of PrideNation Radio and Proud TV, nominated Gear Leather and Fetish for its 2015 People's Choice Award for Best GLBT Retailer! And you picked us as Palm Springs' Favorite Gay Store!
We could not be more grateful. We're honored and humbled to achieve such a distinction.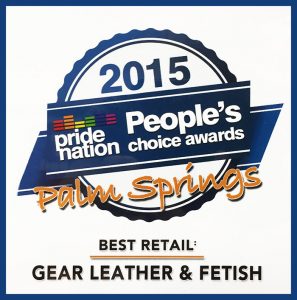 This is the very first time that a leather/fetish store has even been nominated—and that made it a historic win. Even in a place like Palm Springs, it's still important to show the mainstream GLBT community that our diversity (and our opinions as sexually free and adventurous people) really matter.
Kinksters and mainstream shoppers alike agreed that a store like ours is an asset to our community. How great is that?
Thank you for your support and friendship these last ten years! What a wonderful anniversary present!
John and Ken
P.S. Want to watch the broadcast? Here's the link: